This is the BIG question for all of us invloved in the music business and it's not something that's likely going to be answered tomorrow. But I think it's something that's definitely worth discussing because the more we talk about it, the closer we'll get to finding out the answer to this stress-inducing question. I'm talking particularly about whether or not artists/labels and copyright holders will continue to receive any kind of payment for writing songs and producing master recordings in the digital world. There's a lot of interesting points that have been made on this topic and they've been quite diverse, so which prediction(s) will be right when the dust finally settles?
Some propose that music will ultimately be free and that regardless of the fact that there's no revenue being generated, there will still be an abundance of music being created every day for us to listen to; however, the new music being created will be of such poor quality that no one will care enough to download it anyway. They're suggesting that what you'll end up with is a bunch of amateurs and hobbyists making music on their laptops in their bedrooms instead of professional musicians spending real money on top-shelf producers and engineers to create quality music. In the absense of putting a price tag on their music, those who create it simply won't be able to invest the time and money necessary to produce it in the first place.
Then there's the perspective that artists should focus more on other ways to get paid for what they do. For example: live performances, selling merch, ring tones, licensing music for film, television, video games, corporate videos, etc. and DVDs with live performances, behind-the-scenes clips and other tasty extras. With this kind of approach, you're basically treating the music as a loss leader (which can be a bit of a tough pill to swallow for the artists creating it), the way a label like Sony did with the artists they signed to their label.
Sure, if the artists they signed were selling CDs, it was gravy, but more importantly Sony owned a piece of the patent for the manufacturing of CDs and would get a 2.5 cent royalty for every one of them whether they actually sold or sat on the shelves at the retailers collecting dust. Either way, they were winning. RCA was actually losing money on the label portion of their business back in the 1950s, but continued to release albums anyway because those albums were stimulating the sales of the record players they were manufacturing. This is why it's important to understand how a label makes its money if you're considering doing business with them.
A FEW CREATIVE IDEAS
Trent Reznor
did something I thought was pretty creative a couple years back. He released a deluxe version of
Ghosts I-IV
at a price point of $300 which included a lot of goodies for his diehard fans. It was a limited edition with only 2,500 units manufactured and signed by Trent Reznor himself and he proceeded to sell all of them. That's a gross profit of $750,000. Not bad.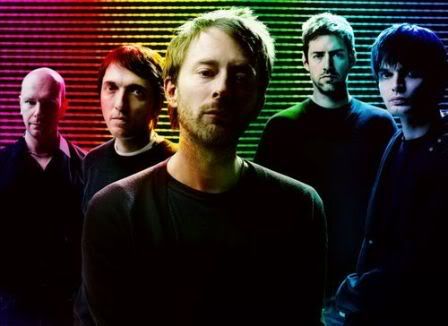 When Radiohead released In Rainbows in 2007, their approach was to let the fans decide what the album was worth. "It's up to you," they said. According to comScore, two out of every five people that downloaded the album paid an average of six dollars. They say that there were 456,000 downloads that were actually paid for, bringing the total revenue for online sales alone to $2,736,000. In Rainbows has sold over three million copies to date and this figure includes downloads from Radiohead.com, physical CDs, a deluxe 2-CD/vinyl box set, as well as sales via iTunes and other digital retailers.
I think this is encouraging as it shows that if something is truly of higher qualitly, people will be more than happy to pay for it. This is how major labels got themselves into trouble in the first place; releasing records with only one or two good tracks and the rest just filler. After getting burned a couple times paying fifteen dollars for a full-length album only to find that the single you heard on the radio is the only good track, you're going to be a little more cautious in the future.
WHAT IDEAS CAN YOU COME UP WITH?
Try and find social currency in something that is unique about you and/or what you do as an artist. Something you can build on and ultimately create your own niche. More so than just the music, fans are really looking for an
experience
. Something they can feel connected to. Something that they can own. The band
Anvil
did an excellent job of this with their
story
. A DVD documentary entitled
"The Story of Anvil"
(and it's a must-see BTW) is what brought them a significant splash of success over the past couple of years after flying below the radar for over two decades.
I would love to hear some ideas from you on this. A great place to start is to think from the perspective of being a fan. Define what you love about the bands/artists you listen to and figure out a way to model them in your own original way. I know this is easier said than done, but I believe there's still tons of great ideas out there that haven't been put into action yet. I know this because you're an individual with unique ideas and abilities and no one can possibly be better at being you than YOU!
So now I'm handing it over to you. Where is music going in the digital world and what can you do to maximize your return?