So this is my follow up to
the blog I posted on January 19, 2011
about Ember Swift's new album campaign. She has put together a number of different packages to choose from when you make a donation toward her newest album release which is underway as we speak with Montreal-based producer Tim Rideout of FibiiSonic Studio. Have a look at the goodies she's offering to those who participate
here
.
Thanks to the incredible technological advancements we've experienced in recent years, she's recording her 11th album with Tim from her home in Beijing, China. Amazing! Here's an excerpt from a recent newsletter from Ember where she describes the musical direction of the CD.
I currently have about 15 new songs that include my Grandmother's songwriting (2-3 of her songs will go on the record!) and a collection of material that has twin "English/Chinese" versions.

Styles range from gentle jazz trio to crunchy rock, from solo acoustic folk instrumentals to full-band, gypsy-swing party tunes. Like previous "Ember Swift" releases, this will be an eclectic album.
Here's a link to the entire
news release
.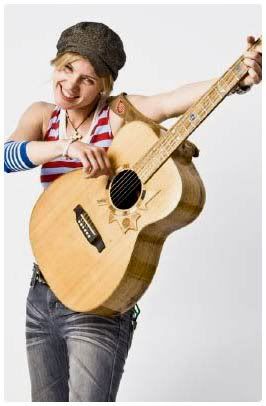 She is currently about 2/3 of the way to her goal and is still seeking your help. Please look into this and consider supporting an incredibly talented and dedicated musician like Ember or spreading the word to those who you think would be interested. Let's show the major labels that we really don't need them anymore and further nuture this new trust economy.